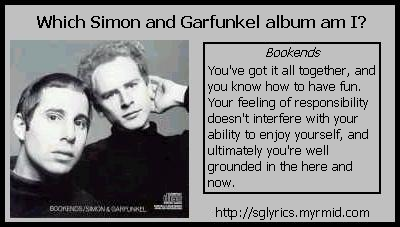 I'm Bookends!
Which Simon and Garfunkel album are you?
Here's my contribution for the day. Thanks, Vicki.
That's about it, folks. I am beat, heart-wise and body-wise. I had an important teleconference at work, then a long drive, followed by a funeral for a beautiful 29-year old woman who left her husband and two young sons (and so many others) behind on this earth because she did something stupid. (Not a deliberate suicide, either.) Hey, out there....if you think you aren't something special to someone, think again. You are special and your presence with us here is important. Don't do anything that risks you leaving ahead of schedule.